Yakovlev Yak-50 – sold 2021
C/N 853101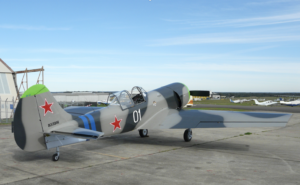 This aircraft is currently located in Bankstown Airport, about 40 minutes drive from Sydney CBD. It is on the Australian register as VH-DZY.
Since its arrival in 2008, it has always been hangared, carefully flown and meticulously maintained throughout its time in Australia. Although designed to perform +9G/-6G aerobatics, it has never been flown beyond 5.5G.
Overhauled by Termikas Ltd (Lithuania) before being shipped here, the aircraft's exterior paintwork and interior furnishings are in excellent condition. In addition to its Australian logs and the overhaul documents issued by Termikas, the aircraft's original Soviet logs are also available.
This particular aircraft is the 301st of 314 total aircraft produced. Provenance is supported by its Soviet logs and by independent and unrelated third party (plane spotter) record of its construction number and DOSAAF tail number. Further details are available on request.
Aircraft           TTSN 404 hrs, TSOH 183 hrs
Engine           TTSN 1102 hrs, TSOH 183 hrs
Propeller       TSOH 33 hrs