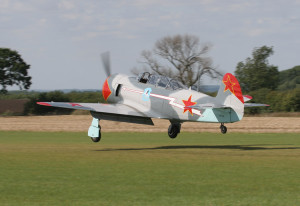 YAK 11
Dimensions
Length 27ft 10in 8.2m
Height 10ft 5in 3.19m
Wingspan 30ft 10in 9.4m
Wing Area 166 sq ft 15.4m2
Weights and Loadings
Empty weight 4,037lb 1,833kg
Max AUW 5,468lb 2,482kg
Useful load 1,431lb 649kg
Wing loading 32.9lb/sq ft 161kg/m2
Power loading 7.8lb/hp 3.83kg/kW
Fuel capacity 79 Imp gal 360 lit
Design G Loading +4.25/ 0G
Performance
Vne 323kts 598km/h
Cruise 200kts 370km/h
Stall 73kts 135km/h
Climb rate 1,600ft/min 8.1m/s
Service ceiling 26,000ft 7,925m
Range 690nm 1,280km
Engine
Shvetsov Ash-21 air-cooled seven cylinder radial, producing 700hp (522kW) at 2,300rpm.
Propeller
VIS-111-V20 metal two-blade constant speed
The YAK 11 has become of "age" and is now recognised as the cheap alternative to the million dollar fighters.
Just translated the "YAK 11 technical description and maintenance schedule" available on CD, 300 pages with all drawings. YAK 11 pictorial parts manual. YAK 11 pictorial flight manual, also YAK 3 pilots notes from 1945 with pictures. , see manuals page 
Flight test reports here.